Local Information & Attractions in the Dordogne
The cottage is centrally situated in a triangle between Perigueux, Sarlat and Bergerac and therefore has convenient access to the majority of the areas' attractions - be they sport, tourism and sight-seeing or the myriad of local markets and home grown events.
Shopping
For food and general household items there is a small supermarket and a general store in Rouffignac - about 7 minutes away. There is also an ATM and newsagent who stocks English and Dutch newspapers as well as French newspapers/ and generic stationery material such as pens, postcards, etc.
On the Eastern side of Perigueux there are two hypermarkets located in shopping centres. There is a third hypermarket on the west side of Perigueux. The major supermarkets also have stores in Bergerac and Sarlat; and the smaller chains Casino and Champion are represented in places like St. Cyprien. These offer the full ranges of products that you expect to find in any other supermarket. It may be an idea to carry a small dictionary to help locate items that are not self-evident.
Rouffignac also has a bakery as does La Douze,which is also nearby. There is a corner shop in La Douze, similar to the one in Rouffignac.

For sports stuff, there is a major sports store - Decathlon - located on the approach to Perigueux. Small sporting items are available in a limited range at Carrefour in Rouffignac.

Dining
St. Geyrac offers a limited menu in its Bar/restuarant as does the village of La Douze. Regional specialities can be found at La Vielle Forge in Milhac D'Auberoche, about 4 minutes by car. Rouffignac has three restaurants offering reasonably priced local fare.
There are further dining opprtunities at Chez Juliens in Paunat (30 minutes drive) and Tremolat which offers Relais & Chateaux dining.
Perigueux has its own stable of dining opportunities, at all ends of the scale. Place St. Louis is a very attractive square, which is surrounded by restaurants offering a very wide range of cuisine. Lovers of Asian cuisine will not be disappointed as Vietnamese/Chinese and Japanese and Indian tastes are equally well catered for.
Most of the surrounding villages and market towns organise "Night Markets", where local producers showcase their produce/vegetables/fruit, together with various cooked options and beverages. These can be eaten al fresco at tables provided by the commune. Most have some form of live entertainment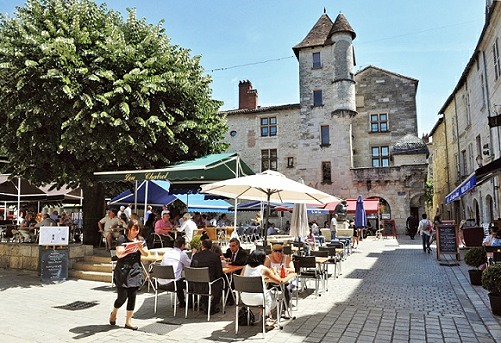 Sporting Activities
The area provides a wealth of sporting activities.

Golf. There is a golf course about 8 minutes away as well as teh municipal course in Perigueux. Brive has a course that is about 40 minutes away. Chateau de Vigiers near Bergerac also boasts a golf course as well as its own vineyard/restaurant and ther smaller courses can be found within about 30 minutes drive.
Horse-Riding. There is a nearby stable that offers Horse/Pony rides in the surrounding woods.

Canoe-ing. Virtually every village on thenearby rivers offer canoeing facilities. These operators take you up-river by van, along with your canoe, and launch you so that you meander downstream. Bouyancy vests are normally provided by the canoe operator.

Walking. The cottage is situated along a circular marked hiking trail (2 hours). This trail is also linked to other marked trails. Being in an agricultural area there are many other non-marked trails through the nearby woods and forest, which only require a semi decent sense of direction.Biking.These trails can also be used for BMX biking.

Boules and badminton sets are available in the cottage. Boules requires a flattish but not neccessary level surface. The driveway seems to suffice. If you cant survive without cricket there are local cricket teams in the area. Fixtures can be found via the Internet.

Astronomy. There is virtually zero light pollution, making the summer sky stand out. The Milky Way and the Perseid Meteor showers are but two of the main summer attractions.

Sight-Seeing & Tourism
Chateaux. The area is literally littered with Chateaux in various states of repair, ranging from Chateau Losse, which is livable, through to Chateau L'Herm in Rouffignac which is definitely not.
The Dordogne river at Beynac hosts Beynac castle itself. Castelnaud containing an excellent medieval warfare museum. Chateau des Milandes - home of the American singer Josephine Baker. Further afield there is Commarque, which has an entire medieval village around it. Hautefort is again yet another fine example of gracious living.
Gardens. The nearest gardens are those of Eyrignac, Marqueyssac (shown in the image) and L'Imaginaire. They all offer something unique to the lover of formal gardens.
Wine Centres. The gîte allows ready access to the Pecharmant vineyards, as well as the Monbazillac area, near to Bergerac. Further afield, along the Autoroute A89 westbound, near Libourne are St. Emilion and Pomerol. Slightly further afield is the Gironde Valley with access to Margaux, St.Julien and a host of other Grand Crus.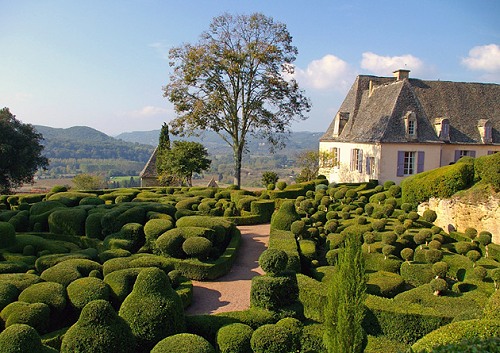 Local Markets
Virtually each village has its own market on a specific weekday (or weekend). In the sumer many villages have night markets, which have more of a funfair elemnt as opposed to straight produce. There are nearby markets on Sunday(Rouffignac),Tuesday(Le Bugue),Wednesday & Saturday (Perigueux), Friday(Vergt) to mention but some. There is a list in the local tourist guide booklet in the cottage.